Delivering alpha from winners and losers in global equities
The Threadneedle Global Extended Alpha Fund adopts a strong, bottom up stock picking approach to identify companies with superior earnings growth. Through that same process, we discover companies that may be structurally challenged in the long term, or face short term price dislocations – allowing us to short these underperforming stocks. The short positions are used to further fund the stocks which we have the strongest convictions. This process allow us to enlarge the alpha engine, but introduce minimal tracking error to the fund.
Simple approach, powerful structure
Invests in businesses with high or rising returns, above average growth and competitive advantages; and the opposite in the short book.
Three ways to tackle disruptive innovation
We primarily seek businesses that are difficult to disrupt and disruptors that fit our criteria, whilst shorting businesses that are being disrupted.
A long track record of outperformance in rising and falling markets, delivered with high levels of consistency.
Managed by two managers with significant expertise in long/short investing, supported by our well-resourced global equity team and our extensive global research network.
Past performance is not a guide to future performance.
Launch date:
9 July 2008
Index:
MSCI AC World
Typical portfolio characteristics:
Number of long positions: 60-100
Number of short positions: 0-40
Gross exposure: 120-160%
Net exposure (long – short): 90-105%

The extended alpha concept - how it works
Greater opportunity to generate alpha
Extended alpha funds combine a traditional long-only portfolio with a short portfolio
In this example, the resulting portfolio is 130% long in favoured stocks and 30% short in stocks that are expected to underperform
Short sales enable manager to increase long positions whilst maintaining a net exposure of 100% like traditional long only funds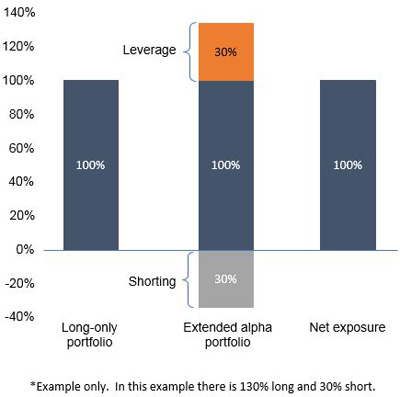 Market Monitor – 22 September 2023
Fears that interest rates will remain at higher levels for longer than previously expected have sparked losses on global stock markets.
Market Monitor – 15 September 2023
Global stock markets have made steady progress this week on hopes that central banks are near the end of their interest rate raising programmes.
Market Monitor – 8 September 2023
After a positive start to the month, global stock markets lost ground this week on fears that rising oil prices could increase inflationary pressures and lead to further hikes in interest rates.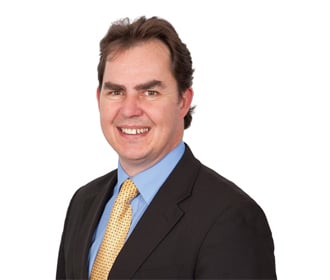 Neil Robson is Head of Global Equities at Columbia Threadneedle Investments. He took up this role in July 2017. He joined the company in 2011 as a portfolio manager within the Global Equities team. He is the deputy manager of the Threadneedle Global Select Fund and manages a number of global equity mandates for institutional clients. He is also the co-manager of the Threadneedle Global Extended Alpha Fund.
Before joining the company, Neil worked as a fund manager at companies including Martin Currie, Barings and Citibank. In addition, he was Head of Global Equity at Pioneer Investments from 2003 to 2009.
Neil has an Economics degree from the University of Bristol.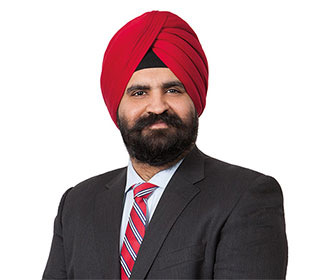 Ashish Kochar is a portfolio manager for the Threadneedle Global Extended Alpha, American Extended Alpha, American Absolute Alpha and American Select funds. He also is responsible for consumer sector research.
Ashish joined the company in 2008 as a senior portfolio analyst within the US Equities team and subsequently joined the Global Equities team in 2010. He joined the company from a 'Tiger Cub' hedge fund and previously worked as an analyst for Merrill Lynch in New York.
Ashish holds an MBA from Mason School of Business, The College of William and Mary.
Millions of people around the world rely on Columbia Threadneedle Investments to manage their money. We look after investments for individual investors, financial advisers and wealth managers, as well as insurance firms, pension funds and other institutions.
Columbia Threadneedle Investments has a comprehensive range of investment funds catering for a broad range of objectives.
Teamwork defines us and is fundamental to our investment process, which is structured to facilitate the generation, assessment and implementation of good, strong investment ideas for our portfolios.